5 reasons to take a closer look at independent retirement communities
Your retirement really should be the best time of your life; and moving into a retirement village one of the best decisions you'll ever make. In fact, most people who have made the move to Renaissance tell us they have only one regret: they should have made the move sooner!
So why do people pack up, sell up and move to a retirement community? Talking to our residents, we've discovered that the reasons fall into five main categories:
The people you meet

The time you'll save

The adventures you'll have

The security you'll feel

The peace-of-mind you'll experience
Let's look at each one and discover what the real attraction is to retirement village living.
1) The people you'll meet in a retirement village
The beauty of retirement living is that you'll be surrounded by people at the same age and stage of life as you. It certainly makes it easier to relate to your neighbours, build friendships, and create wonderful memories.
There's nothing wrong with staying in your family home in retirement, and having a wider variety of people living close by. Yet you'll find that younger people tend to be busy with jobs and raising families, while you've put that behind you and are ready for different life adventures. This means you may feel more disconnected from them as you age and the gap widens.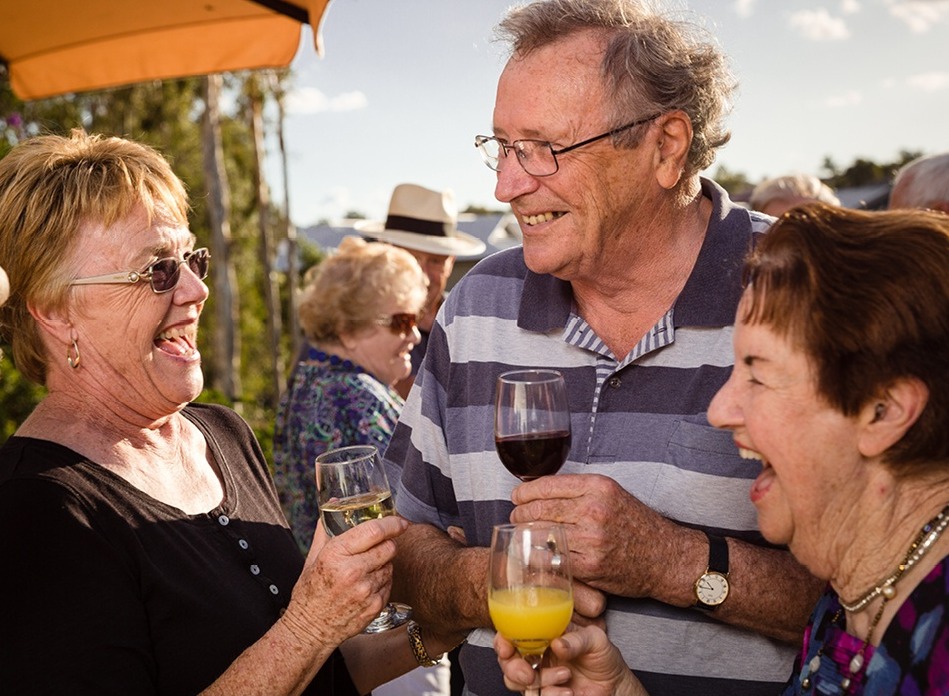 In larger retirement communities, it's easier to "find your flock" of people who are aligned with your values and who enjoy the same pastimes and interests. And of course you can still participate in the greater community through volunteer work, sports or social activities.
The beauty of living in a retirement village is that at the end of the day you can come home to people who understand where you're at; where you can fit in without having to try. It's a great comfort to belong somewhere special.
2) The time you'll save
Retiring doesn't necessarily mean slowing down – in fact you've probably heard retirees say they've never been so busy since they retired!
Yet it's important that you decide where you want to spend your time. If you're constantly repairing or maintaining your home, mowing the yard, cleaning the pool, or clearing the leaves from the gutter, then it's hard to find time for more fun activities.
Here's the good news – modern retirement villages handle most of those jobs for you. Your home and yard are cared for and broken things are fixed. All you'll have to do is change the odd light bulb!

At the same time, living in a retirement village means you'll also get to enjoy all the facilities on offer such as pool, tennis, BBQ areas, theatre and gym... and leave the cleaning for someone else.
Imagine all the free time you'll have, knowing a maintenance team is taking care of things in and around your home. No wonder people say some retirement villages are like resorts!
3) The retirement adventures you'll have
A well-planned retirement village will have plenty on offer to keep your calendar full. As well as the village facilities, you'll find social activities galore, giving you plenty of opportunities to make new friends and build those friendships over time.
Many retirement communities have a resident who serves as "activities coordinator", coming up with a host of fun and interesting things for residents to do – both inside and outside the village. You can even put your hand up for the role yourself if you choose.

You also have the freedom to take off on your own adventures. The lock-and-leave retirement lifestyle is perfect if you love to travel. You can head off knowing everything will be taken care of while you're away.
4) The security you'll feel in a retirement community
The world has changed and sadly, not always for the better. Once-safe neighbourhoods where you could take a pleasant evening stroll now feel like they're in lock-down mode every night. That's no way to live... like a prisoner in your own home.
Retirement communities are among the safest in the country. On-site management, security systems and safety measures are all in place so you can relax and enjoy that evening stroll home from the clubhouse without looking over your shoulder.
People who know and look out for each other also provide the best neighbourhood watch there is. If something seems out of place it will be noticed straight away thanks to your caring neighbours.
Having help and support close at hand also gives retirement village residents a sense of security. Most retirement communities have 24/7 emergency services available at the touch of a button and medical facilities close by. You'll be secure knowing you're never far away from the help you need.
5) The peace-of-mind you'll experience
There's something about the idea of 'home' that gives you peace-of-mind. Yes, moving into a retirement community is a big decision, and it may take a little while to settle in and find your feet, but once you do you will never look back.
It's a difficult feeling for retirement village residents to describe. They say it's like a new chapter; they've raised their family and now it's time for them to start doing what they want to, and really enjoy these precious years.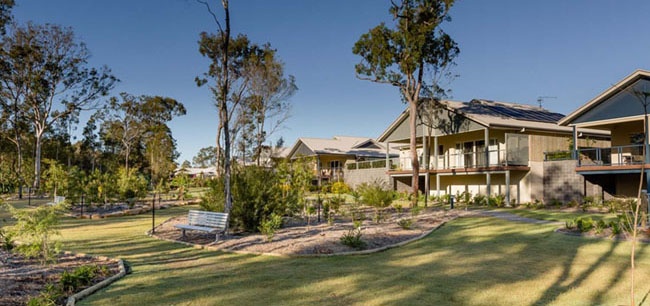 You might choose to put your hand up for everything on offer, and fill your days with back-to-back activities. Maybe your ideal retirement means quiet days spent gardening, doing yoga, reading by the pool, or chatting with close friends over a game of croquet. Or perhaps you love sharing your weekdays out in the wider community, before coming home to relax and entertain friends and family on weekends.
The common thread? That sense of peace and knowing that all is well, and home is a happy place to be.
Come and find out why our residents love living at Renaissance
The best way to learn about a retirement village is to chat with the people who live there. You're always welcome to visit Renaissance Victoria Point and see it for yourself.
You can visit our beautiful homes, take in our resort-like facilities, stroll through the peaceful gardens, and meet some of our wonderful residents. They'll most likely tell you it's the best move they ever made and they only wish they had taken the leap sooner.
Call Renaissance today on (07) 3820 7700 or get in touch online to find out more about our outstanding Victoria Point retirement living.