How moving could be one of the best decisions of your life
The thought of packing up your family home and moving somewhere new may seem daunting. That's understandable. It's a big change, and yet more and more seniors are taking that next step and choosing the amazing lifestyle that retirement communities offer.
So, what leads these retirees to that decision? Here are some of the main reasons given by residents living in over 50's communities. They may just inspire you to consider making the move too!
Retirement villages offer a sense of safety and security
This is high on the list for most people when deciding where to live. It becomes even more important as you reach your retirement years. You want to personally feel safe at all times, be in a home that is safe and well maintained and have a sense of security in your community.

Modern retirement villages are renowned for being safe places to live, in fact they're designed that way. The homes are built with safety in mind with features to suit the immediate and changing needs of mature residents. You'll often find homes are on one level, reducing the risk of falls. Doorways and hallways are wide with non-slip surfaces throughout. There may even be mobility fittings in the bathrooms just in case you need them in the future.
Outside you'll find well-lit paths with no 'sharp edges' to trip over. Well-lit streets make you feel safe to venture out at any time and security may extend to village gates that close at night and CCTV cameras for added peace of mind.
Retirement village living comes with the security of knowing you're surrounded by like-minded people of a similar age who moved there to live a similar lifestyle to you. You won't have to contend with noisy neighbours, barking dogs or screaming children. You can still entertain, have friends and family over to visit and often villages allow for pets – there are just guidelines in place to ensure everyone lives in harmony.
Many retirement communities have live-in managers onsite which adds to your sense of security. There may also be a 24/7 emergency call system in place so you know someone will be there if ever you find yourself in trouble.
The social aspect of retirement living
Recent studies estimate that one in five older Australians suffers from social isolation. This can have a negative impact on mental health and can increase the risk of depression.
Retirement villages are specifically designed to entice you out of your home and to enjoy entertaining while you're in it. Homes are designed with spacious kitchens and dining areas with plenty of room outside to entertain guests.
When you venture out, you'll find a wonderful range of activities and events where you can make new friends. Larger villages have a full-time event coordinator who organises everything from new resident meet and greets, special interest groups, sporting events and live entertainment through to shopping trips and day tours.
Keeping socially active in your retirement years will help you grow your friendship circle, build your sense of community, and have a positive effect on your health and wellbeing.
Keeping yourself active as you age
Once you're feeling safe, secure, and social, you can spend some time looking after your body. Retirement communities abound with opportunities to keep you active and maintain (or build) your level of fitness.
Most offer a range of amazing facilities such as swimming pools, bowling greens, tennis, gym, and walking paths. You may find fitness classes on offer such as water aerobics, yoga or Pilates. Join a group or take things at your own pace and you won't have any problems finding a walking (or dog walking) buddy if you need to keep motivated.
Often retirement villages are located close to shops, doctors' surgery, vet, and other health practitioners. If it's close enough, you may even find some practitioners offering their services by appointment at the village.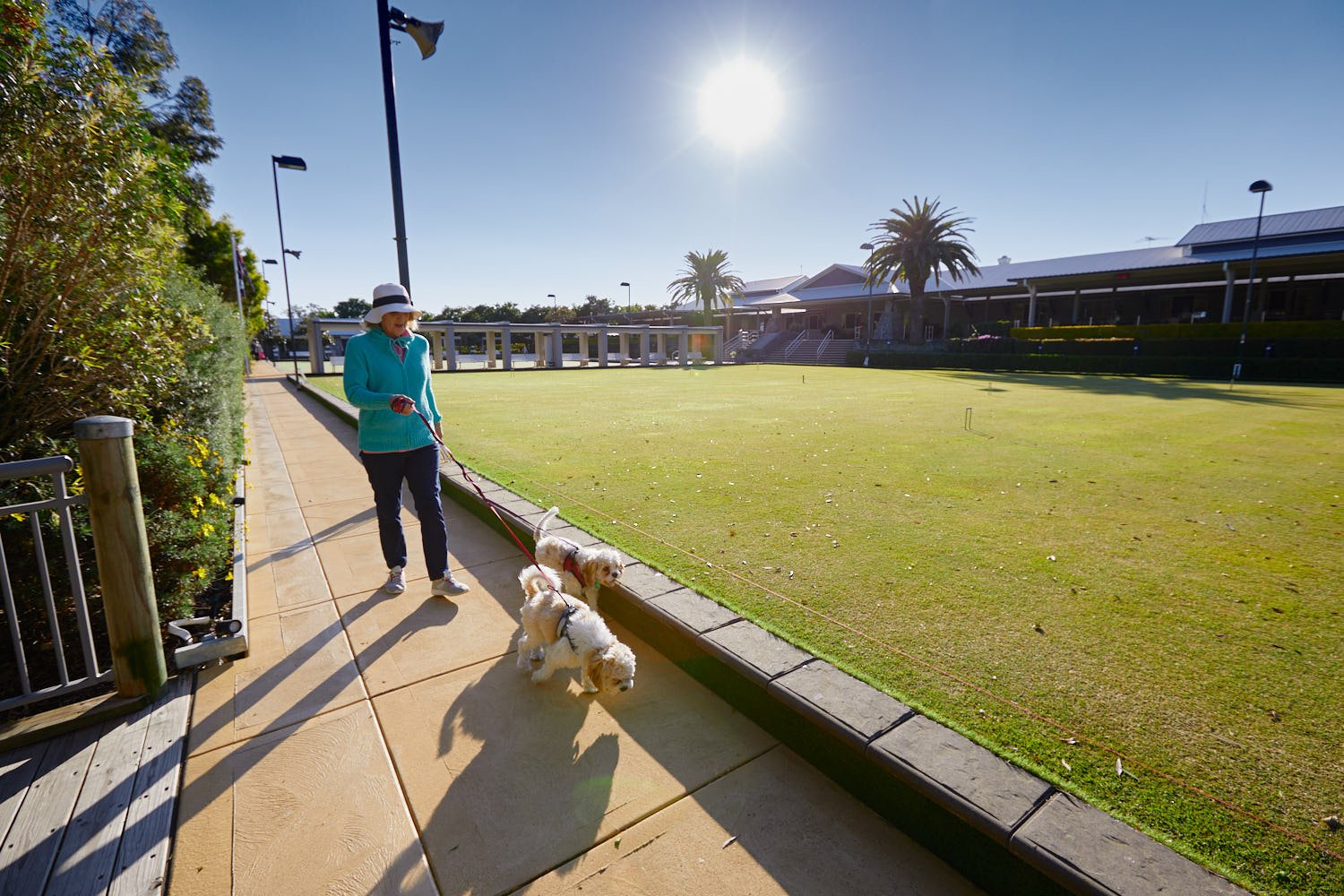 Amazing retirement community facilities to enjoy
You're probably getting the idea that living in a retirement village is like being on holidays – every day. Well, that's the idea! And it's certainly true of modern villages. You'll never be starved for options as you could easily fill your diary every day.
As well as facilities to keep you fit, there are those designed purely for your pleasure. Relax under an umbrella on a deckchair by the pool or escape into a comfy chair with a book in the library. When you have visitors, there might be a movie theatre you can book, or a BBQ area to celebrate a special occasion.
Easier to move about – without a car
When you move into a retirement village, don't be surprised if your car sits in the garage gathering dust! Just about everything you need will be in the village or perhaps just a short walk away.
A shuttle bus is often onsite with planned trips for shopping, or for more fun adventures such as sightseeing or trips to the theatre, They may also be made available to drop residents off to appointments or to the airport.
You'll certainly save a lot of mileage on your vehicle and petrol costs too!

A low maintenance retirement lifestyle
Imagine how much time you would save if you never had to mow lawns, remove leaves from the gutter, clean the pool or even organise someone to do all that. It's one of the big pluses of living in a retirement village – much less maintenance.
The beauty of living in a retirement community is you get to enjoy all the wonderful facilities, the pools, the manicured lawns, and stunning gardens without having to worry about looking after them. You have your own little patch to look after, but if that's too much, a gardener can even take care of that for you.
Because retirement villages are purpose-built, the homes are designed to be easily maintained. When you do need some work done, the management team will have their list of trusted professionals they know will do a good job. It's also quite common for residents to organise for maintenance work to be completed while they're away on holidays so they can come home, and it's all done.
And for men who feel they may miss doing 'stuff' around the house, there may just be a Residents' Workshop on-site so you can still get your hands dirty!
Let us help you with this important decision
If you've ever thought about moving to a resort-style retirement community, we invite you to come and visit our beautiful village. Renaissance Retirement Living at stunning Victoria Point is home to a friendly, interesting, and extremely welcoming community.
Come and join one of our monthly small group information sessions and enjoy a lunch with residents afterwards. We'll take you on a tour of our beautiful facilities, show you through our lovely choice of homes we have available and you can even chat to our residents. They would love to tell you what it's like living at Renaissance. Make sure you bring all your questions as we would love to answer them.
Call the Renaissance team today on (07) 3820 7700 or contact us online to book a spot at our next information session and lunch. We look forward to meeting you!