Take a visit to this beautiful seaside shire and see for yourself
More retirees than ever are leaving the suburbs behind and opting for a sea change in the Redlands. They're packing up the family home and downsizing to free up their time and money... and enjoy the fabulous village atmosphere.
There is so much to see and do in the Redlands that you'll never need to be sitting at home twiddling your thumbs. It's a community that is filled with pride for its history, natural beauty and relaxed living. Just be warned, make just one visit to the Redlands and you might not want to leave!
Find everything you need, without a trip to the city
Even though the Redlands is just 45 minutes south of the Brisbane CBD, you'll find many retired locals rarely feel the need to venture to the "Big Smoke".
This growing community is close enough to all the amenities, yet far enough away to enjoy a little peace and quiet. You'll have no trouble finding a luxury Redlands retirement village within easy walking distance of shops, medical centres, and other facilities – and public transport is at your door.
Did somebody say seafood?
Sprinkled with dozens of islands, Moreton Bay is an ocean-lover's paradise. On any given day you'll see local fisherman heading off in their tinnies, divers and surfers on the barge headed to Stradbroke Island, and day trippers taking an easy ferry ride to soak up the sun on Coochiemudlo Island.
Trawlers and commercial boats bring their fresh catch in daily to tempt you at some of the best seafood restaurants in South East Queensland. Other catches end up wrapped next to golden fries to be shared with family under one of the massive fig trees the area is famous for.
Get your creative juices flowing
The Redlands has to be one of the 'craftiest' shires around. It seems every second person is creating something, and the community abounds with all types of clubs from pottery to photography, weaving to woodwork. You'll also find plenty of people willing to teach you a new skill, with workshops and classes offered daily.
If you prefer to take in artwork created by others, there are galleries dotted throughout. Redland Art Gallery in Cleveland shows off the work of both local and touring artists, or take a stroll through the Cleveland and Capalaba Art Walks and marvel at the many sculptures and mosaics along the way.
Find entertainment every night of the week
There are enough pubs and clubs, wineries and micro-breweries in the Redlands to keep you well and truly entertained.
Sirromet Winery at Mt Cotton plays host to big outdoor concerts, with some artists taking you back to your younger years. And the Redlands Performing Arts Centre serves up year-round entertainment from both national and international performers.
If you prefer to sit back in a comfy chair, the local cinemas are the place to go with all the latest movies... and choc tops!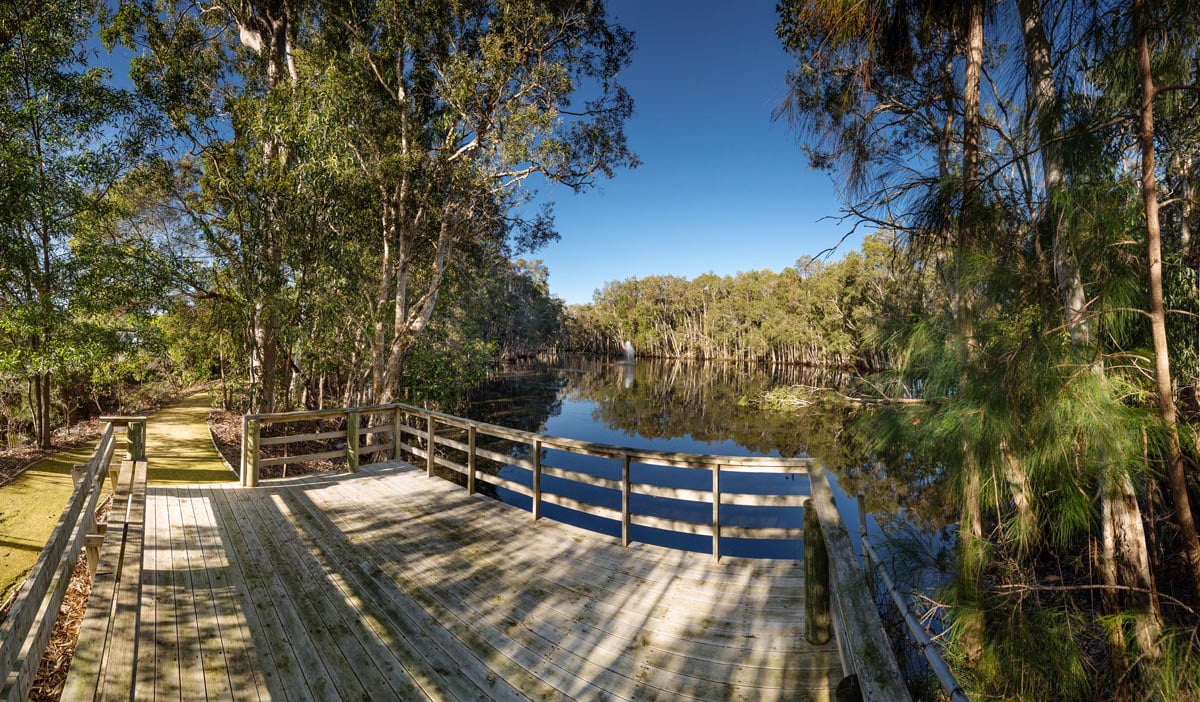 Natural beauty and wildlife abounds
Having stunning North Stradbroke Island just a hop, skip and boat trip across the bay is enough to seal the deal for many retirees. Your surfing days may be long gone (or not!) but you can't help but be awestruck by this magical place. With its national parks, lakes, magnificent beaches and dramatic cliffs, Stradbroke Island is an incredible natural wonder.
Home to kangaroos, turtles and dolphins, 'Straddie' as the locals call it is a brilliant vantage point to take in the migration of the humpback whales from June to November.
The Redlands also boasts one of the most significant urban koala populations in Australia. Even though their numbers may have dwindled in recent years, you can still spot these adorable marsupials nestled in trees close to houses and shops.
Being a naturally green corridor, wherever you retire to in the Redlands you're never far from bushland, walking tracks and giant Moreton Bay figs. It truly is where the bush meets the sea.
A real sense of community
It's easy to make friends and find 'your people' in the Redlands. There is so much on offer, no matter what your interest. Take up ballroom dancing, join the Men's Shed or a choir, play a round of golf, or while away a few hours with the fishing club.

You'll find 'Redlanders' are quick to welcome you with open arms into their village, which makes it so easy to fit right in. Even though the environment is more relaxed than the buzz of the city, there's a real vibrancy to the place. It's certainly no sleepy hollow!
Plenty of activities to keep you fit
Staying active seems to be a way of life in the Redlands. Tennis, bowls, golf, cycling, croquet, swimming, wherever you look sporting clubs abound. The Redland Bay Golf Club is a popular spot to tee off and there are several lawn bowls clubs scattered throughout the Redlands.
You'll also find some retirement villages in the area offering yoga, tai chi, exercise classes even water aerobics and a few even come equipped with their own gym. The only problem you'll have with so many activities will be fitting it all into your busy retirement schedule!

How may we be of service?
There are no shortage of service clubs and charities where you can lend a hand and give back. Rotary, Lions, Apex, Zonta, Quota, CWA, Lioness, Seniors, RSL Clubs – all are well represented in the Redlands. The many local charities are always grateful when a new volunteer walks through the door, so you're bound to be in high demand should you wish to put your hand up.
Volunteering is a great way to quickly feel a part of your new environment. Once you've settled you might step forward to support the Redlands Museum or Tourist Information centre, both perfect ways to quickly get to know the area.
You're sure to love your new community at Renaissance Victoria Point
We invite you to come and explore the beautiful Redlands area, and while you're here visit our stunning luxury retirement village at Victoria Point. We're sure you'll be pleasantly surprised!
Our team will be happy to show you around our secure retirement community, and help you get a feel for just how incredible retirement living can be.
Call Renaissance today on (07) 3820 7700 or get in touch online to find out more about our outstanding Victoria Point retirement living.