Sorting fact from fiction about retirement village living
Just as with the rest of your life, in retirement the attitude you bring can make a huge difference. A positive outlook can change the way you think and feel about almost anything!
It's easy to find horror stories about retirement living if that's what you're looking for. The trouble is, such stories easily get blown out of proportion and are seen as facts – when in fact the industry as a whole is filled with great people, doing a wonderful job and providing excellent facilities for their residents!
When you instead go looking for the good stories, you'll be pleasantly surprised by what you find. Of course there are always exceptions to the rule, but when you do your research and take a close look at a village before you move in, chances are you'll love the experience.
To help you sort the fact from the fiction, in this news post we'll take a look at 8 of the most common misconceptions about retirement living.
Myth #1: Retirement villages are for old, sick people
We've all met the 90 something year old who jokes, "I don't want to go into one of 'those' villages – they're filled with 'old' people!" We can all see the humour in it, but what's the reality?
In fact, there's a huge difference between a retirement village and a residential aged care home (formerly known as a nursing home), though you'll find some are located next to each other in the same community. Aged care homes are for when you are no longer able to look after your needs (or are heading in that direction). Retirement villages on the other hand are for independent, active seniors who are mostly able to care for themselves.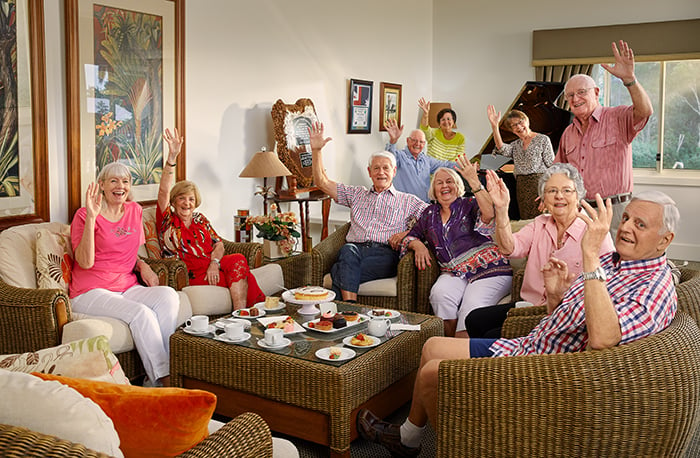 People of all ages are attracted to retirement living. Some can't wait to make the move to a relaxed, resort-style retirement community once they hit 55. Others are happy to stay in the family home until their 70's or 80's. It's a personal decision.
The benefit of moving into a retirement village when you're fit and healthy is that you'll be able to fully enjoy all the facilities, services and activities available. And although you don't (yet) need them you'll still find support services available, such as 24/7 emergency buttons, visiting health practitioners, and a range of optional in-home care and support if you need it.
That means you can enjoy living the retirement lifestyle longer before you move across into residential aged care when and if that time comes.
Myth #2: Retirement villages are expensive
You may be surprised to find you can actually save considerable money by moving from your large family home into a smaller, more modern, maintenance-free villa. The costs vary from retirement village to retirement village, but you'll find there are some basics that are standard.
With most of your costs covered in one monthly general service charge, you'll find that living at Renaissance is affordable even if you're on the aged pension. Additional costs are what you would pay no matter where you lived, such as gas and electricity, phone, and internet.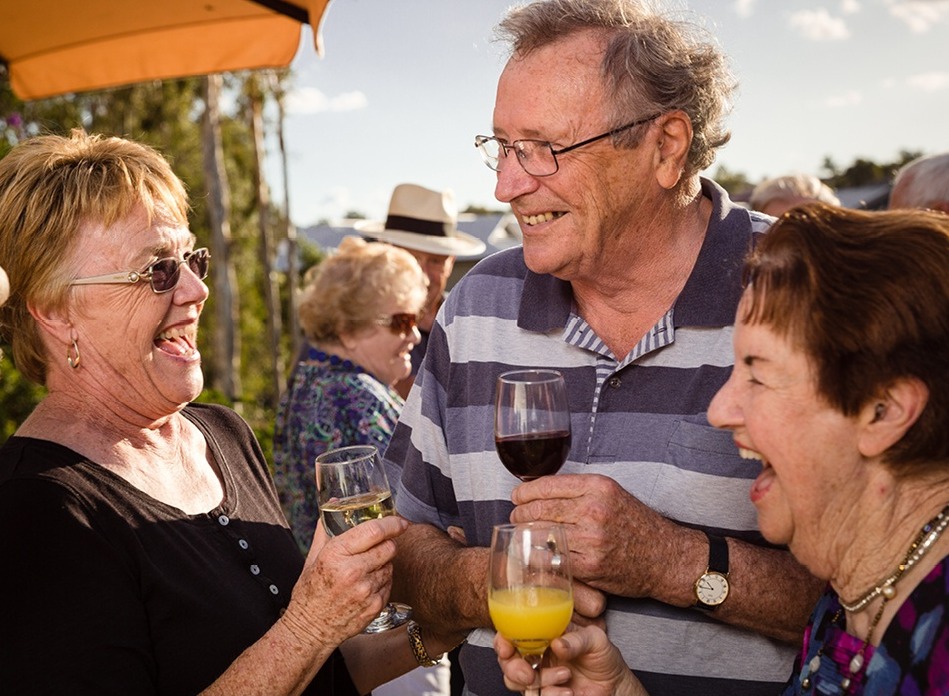 Before you choose a retirement village, take the time to gather all your information, do the figures, and work out what it's costing you to stay and what it will cost to downsize and move into somewhere more manageable.
Myth #3: Pets aren't allowed in retirement villages
More and more retirement communities are realising the benefits of allowing residents to bring their furry (or feathered) family members with them... and the stress and heartbreak when they can't.
These days you'll find many retirement villages will allow you to live with a small pet such as a bird, dog or cat. It's rare to find a village with a strict 'no pets' policy, but they do exist.
When you're comparing villages, make sure you're clear on which pets are acceptable... and which aren't. There will be very clear guidelines on how you must look after pets and how they need to behave.

If you are thinking about taking your pet with you when you move, it's a great idea to take a full tour of the village and see exactly what facilities are available. Are there walking paths and open spaces? Do many other residents have pets? Is there a Vet service close by? Having the answers to these questions will help you to rest easy knowing you're making the right decision for your furry companion.
Myth #4: You can only live in a retirement village if you've retired
It's understandable that this myth came about – after all, the name "retirement village" certainly seems to indicate that you have to be retired to live there.
Yet that's not so! You can choose how much or how little paid work you want to continue with. There is no overseer with a big stick saying, "You have to stop doing everything if you want to live here!"
Some residents continue to run a business or work full time, looking forward to coming home to a relaxed and vibrant environment. You'll find others on committees or volunteering in the wider community. This is your life, and yes you can spend it in a retirement village whether you want to work, or play, or both!
Myth #5: There is no privacy and you have to socialise all the time
Contrary to popular belief, in retirement villages there is no bubbly little activities officer knocking on your door at 6am to take you for 'walkies'. It's completely up to you whether and when you want to participate.

If you love to fill your calendar, then of course you'll find loads of fun at your fingertips in a retirement village. You want to have plenty on offer for when you're ready to venture out, yet in retirement you probably won't want to live in 'party central' every hour of the day. That's what cruise ships are for!
Everyone is entitled to enjoy peace and quiet; and even if you love to socialise you'll need to hit the 'off button' sometimes and recharge. Make sure you choose a retirement village where you know your independence and privacy will be respected.
Myth #6: You can't have your own garden in a retirement village
One of the attractions to retirement living is that the maintenance of your home and the village is done for you. The interiors and exteriors of villas, common buildings and gardens are all looked after. So does that mean you can't tend your own garden? Not at all!
In most cases you'll be welcome to continue your green thumb pursuits. There will be guidelines to follow, since there's a certain 'image' every village must maintain. So you probably won't be allowed to plant away willy-nilly in your front garden. Once again, check the rules before you decide to shift the greenhouse.

At Renaissance our residents are welcome to take part in caring for the community vegetable garden. You'll have a small lot in the communal garden to tend to veggies – and there's even a small shed with tools and a composter for you to make use of.
Myth #7: You're not allowed to entertain or have people stay over
In a retirement village, you'll be living in your own home... not a prison! Your friends and family will be welcome to visit and even have a short stay with you in your villa. You can cook and entertain and your guests can enjoy all the community facilities, so long as you accompany them.
Rules around the length of time will vary and you'll find longer stays will require approval. No doubt your guests will want to come and visit often if your community is more like a resort!
Myth #8: You can't leave your home and go on holidays
This myth is one that definitely needs busting. You'll find it's often much easier and safer to go away on vacation from your retirement village home than your suburban family home.
As part of a retirement community, you'll know your home is safe while you're away. The lawn and garden will be maintained, and retirement villages even have security systems in place so there's always a watchful eye over your home. Should Mother Nature wreak havoc in your absence, the management team are there to take care of what needs to be done.
See what retirement living is really like at Renaissance
At Renaissance Victoria Point we welcome your questions and feedback. We think we have heard everything imaginable, but people can still surprise us with what they have read or been told about what retirement living is like! The best way to find out the reality of retirement village life is to come and see it for yourself.
We'd love to show you around and introduce you to some of our residents. They'll share wonderful stories of their life in our community and why they're glad they made the move.
Call Renaissance today on (07) 3820 7700 or get in touch online to find out more about our outstanding Victoria Point retirement living.