A group of lively ladies take over the Leisure Centre billiard hall
It was July 2020 and a group of women friends at Renaissance were at a loose end. They usually played table tennis together, but the floor in the leisure centre was being repolished, so that activity was on hold.
The women, a close-knit group who get together socially for fun and support, were scratching their heads wondering what else they could do until table tennis returned. They'd walked past the snooker rooms many times. It was almost always the fellas playing, but they thought, why not give it a go?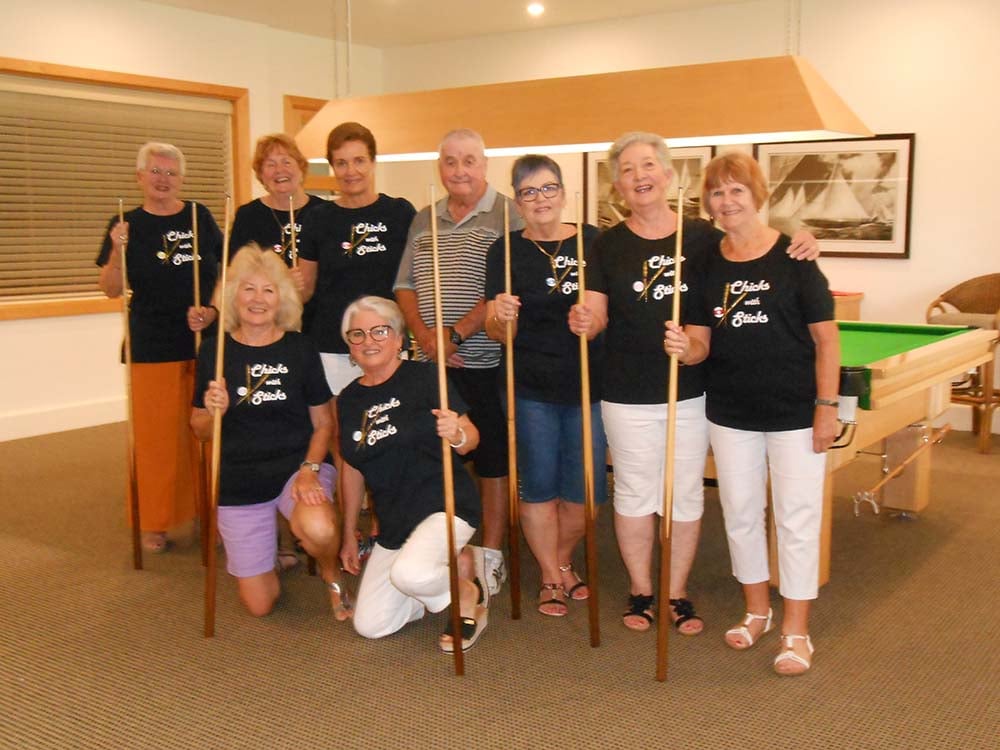 Taking it upon themselves to learn eight ball (or pool), the dozen friends started playing and having fun, but now admit they were atrocious at the game. They decided to approach Don who manages the snooker room. Don is a skilful player who once played with international champion Eddie Charlton. He agreed to coach the women as he's always happy to help anyone wanting to learn the game.
Another fun retirement village activity
What started out as a bit of a hit and a giggle has turned into a three-times-a-week fun filled adventure. In short – the women love it! Some are more competitive and take the coaching quite seriously, wanting to improve their game. Others just like to play as best they can and have fun. And everyone comes along to enjoy their valuable time together as friends.
The ladies decided on a name "Chicks with Sticks" for the group, just for a laugh. They now boast printed t-shirts which they proudly wear to their games. Chicks with Sticks have become a bit of an icon around the village. One of the ladies in the group received a Bluetooth speaker for her birthday which blasts music while the ladies play and every time someone sinks a ball, a cheer goes up from the rest of the women.
The lawn bowls players joke that they can hear them from the bowling green and the craft group come down and tell them to turn it down. It's all done in good spirits though as everyone enjoys seeing the fun and camaraderie.
When Chicks with Sticks is playing, the tables are all full, so the men don't get a look in. The women have even threatened to redecorate the billiard room – to add a feminine touch to the male dominated décor. They joke about taking over the woodworking shop next!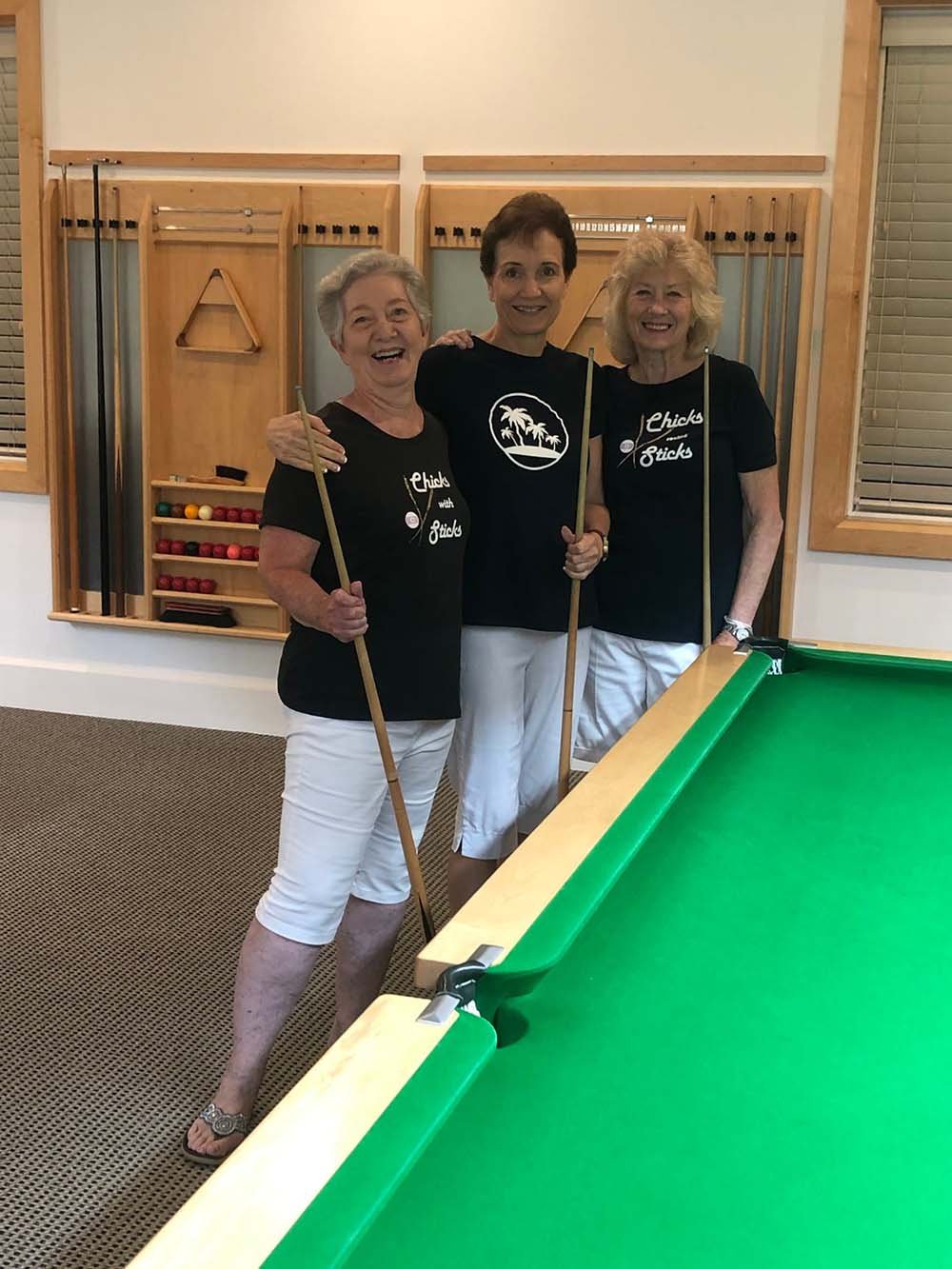 Residents are welcome to join the club
The Renaissance team is thrilled to support Chicks with Sticks. The billiard tables are beautiful and it's great to see them used more often. The women want to encourage others in the village to give something new a try. They didn't know whether they would enjoy playing eight ball, but they had a go. Now you can't tear them away!
Chicks with Sticks have certainly brought more fun to Renaissance. They gave something a go and haven't looked back. They are a colourful, noisy, joyful part of life in the village. Five of the ladies even got a little act together for the Variety Concert and put a little dance together with their pool cues. But that's a story for another day!
Come and discover what makes retirement life so special at Renaissance
To see what a modern retirement community can be like, we'd love to show you around our beautiful community at Renaissance Retirement Living in the stunning bayside village of Victoria Point.
Every month we hold an information session where you can chat with staff and meet our wonderful residents. They'll tell you why they're glad they retired to the relaxed, friendly lifestyle here at Renaissance.
Call Renaissance today on (07) 3820 7700 or contact us to book a spot at our next information session. We'd love to meet you!