Start the conversation while your parents are still active and healthy
You have the best intentions for your parents. You want them to have a happy, healthy, fulfilling life in retirement. You imagine them free from the burdens of maintaining a family home; living in a safe, secure community with like-minded people of a similar age and plenty of fun and interesting things to do each day.
Your parents, on the other hand, may see things a little differently. They may equate moving to a retirement village with losing their independence, or could simply have a fear of letting go of their home that holds so many memories. It can be overwhelming to think about moving somewhere new, even if deep down they know it might be the best thing for them.
So, the question is: when is it the best time to have a conversation with your parents or loved ones about moving into a retirement community?
Answer: well before they're ready to move!
The key is to be prepared for your retirement village conversation
Taking the time to do some important research beforehand can set you up with great information, and help you feel more confident when you're ready to sit down together.
Research different retirement villages and communities – find out what they offer, what are the benefits and drawbacks. Give them a call, download brochures, take notes, and ask questions.
Research what successful ageing looks like – Look up the physical, mental, emotional, and social benefits of living in a retirement village. This could be a real eye-opener both for you and your parents.
Research your family and your parents' friends – Learn what their concerns are for your parents and what your parents' concerns might be for themselves. Ask them about the positives too – what your parents have talked about doing in their retirement or how they would like to spend this time of their life.
Research your parents! – Ask them what concerns them about where they live now. Do they feel safe; is their home getting too much to maintain; what would their ideal lifestyle be? What do they miss, what would they like to do if they had the time, would they want to travel, have more friends, or socialise more?
You can 'research' your parents in general conversation before you plan to have 'the talk'. That way you'll have a deeper understanding of what they want, not just what you want for them.
Once you're ready to set a date with your parents, give them a little warning and let them know what the conversation is about. This allows them time to be prepared so they won't feel ambushed, and you can hopefully have a more positive conversation.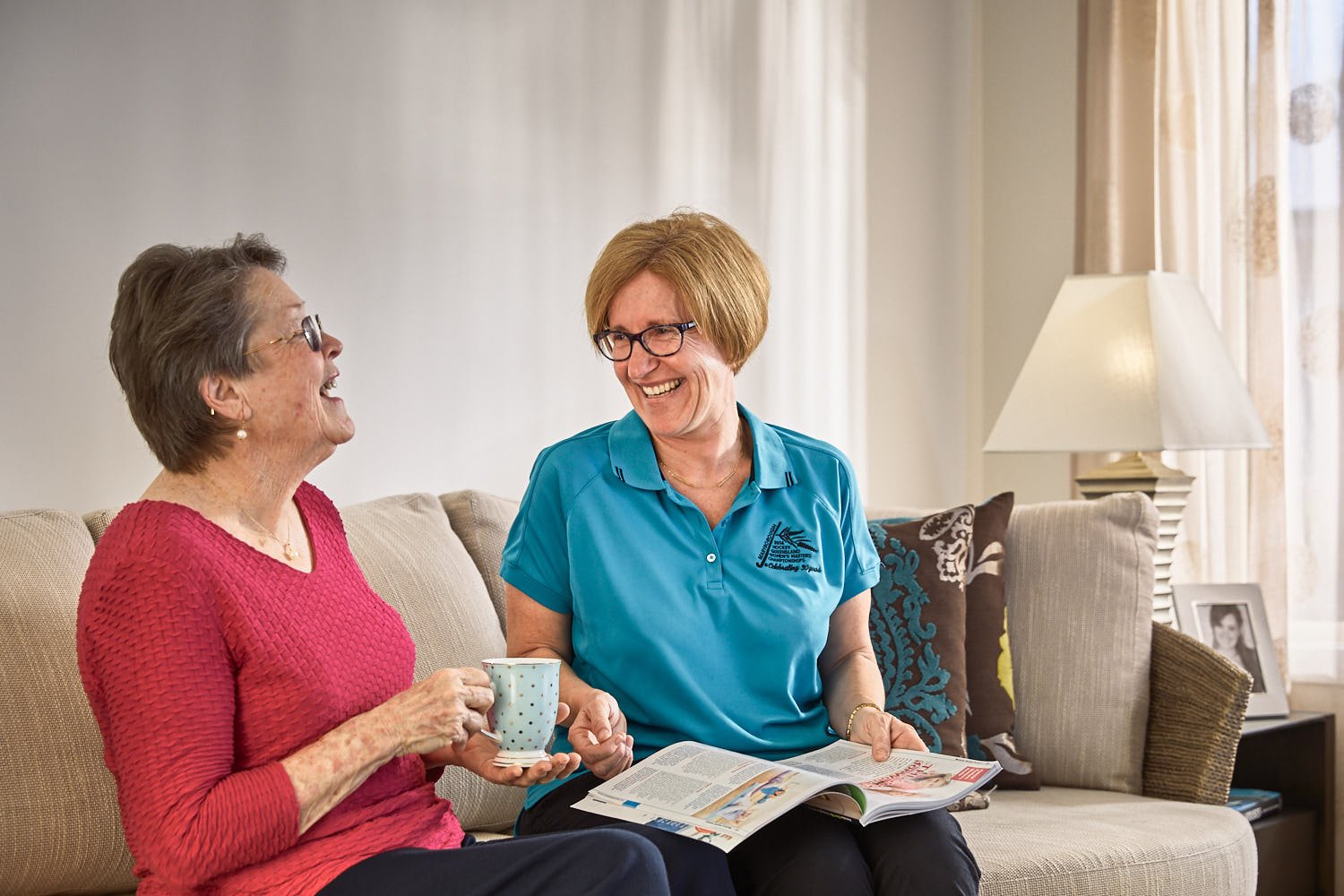 Meeting up in person is best, otherwise a video chat can work when you're all feeling relaxed and free from distractions.
Remember to give your parents plenty of time to talk. Moving out of the family home into a retirement village is a big decision for them so be sensitive to their feelings. You don't have to bombard them with everything in the first conversation. See it more as opening the door to an ongoing conversation.
Most importantly: listen!
Make it a positive experience
You might want to start the conversation by talking about your concerns and those your parents have shared with you. If you've done your research well, for each of these concerns, there will be a positive benefit that retirement villages offer.
For example: if the concern is around safety, whether inside the home or outside, you'll have discovered that homes in retirement communities are designed for safety, comfort, and style. Many villages have live-in managers, so someone is there 24/7 in case of an emergency. And the streets are safe and secure so residents can enjoy early morning walks, or even a late-night stroll.

You get the idea! Without trying to 'sell' to your parents, find the information that will answer their concerns in the positive, while also showing them how they can truly have the retirement they've always imagined.
Keep the retirement village conversation going
Instead of being tempted to dump all your information on your parents at once, try to see this as the start of many conversations. Remember that you've had weeks or months to do your research, but this might be all new territory for your parents.
Allow them the time they need to find the words to express how they're feeling. Treat this conversation (and hopefully the many that follow) like a journey of discovery and growth, where you find out more about your parents' hopes and desires for their life ahead.
Retirement living at its best is waiting for your parents
If your parents are at the stage where they'd like to dip their toe in the water and find out what retirement living can really be like, we'd love to invite them (and you) to visit Renaissance Retirement Living at beautiful Victoria Point.
Our resort-style village is the perfect environment for active, healthy retirees who want to live independently, while being part of a vibrant community. We regularly hold small group information sessions where we answer all your questions about retirement living over a relaxing lunch.
You and your loved ones can even chat with our wonderful residents and ask them all about life at Renaissance. Our team will show you around our stunning facilities and some of our attractive accommodation choices.
Please call us on (07) 3820 7700 or contact us online and we'll book you in for our next information session, lunch and tour. We look forward to meeting you and your family!